Whatever is on your mind, please leave it behind when you watch this. Especially the part that remembers reading the book, One Night @ The Call Center. Leave it at home.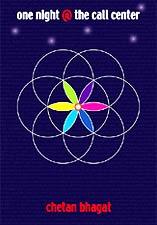 If you haven't understood what am I talking about, let me clear it. I am talking about Hello, the movie adaptation of the bestseller, One Night @ The Call Center written by Chetan Bhagat.

Well, for the uninitiated, let us first have a synopsis of the film. The protagonist of this film is Shyam (or Agent Sam) played by Sharman Joshi (please ignore the squeeing). He along with this team - Vroom (Sohail Khan), Priyanka (Gul Panag), Esha (Eesha Koppikar), Radhika (Amrita Arora), and Military Uncle (Sharat Saxena) - work in the night shift at a call center. This film is about this one particularly bad night where nothing is working properly. The systems are down, everybody's job is in danger, and their own personal demons are in full force this particular night.


Shyam is dealing with a boss who spouts management talk for everything but is a good-for-nothing and the chipku girlfriend Shefali. Varun aka Vroom has trouble with a broken family and his guilt for having left a job which he enjoyed for a job which gave more money. Radhika is facing a torturous mother-in-law and an uncooperative husband. Esha faces failure at her yet-to-start modeling career. Priyanka is yet to face the remnants of her breakup with Shyam while her mother pressurizes her for accepting an alliance with an NRI software engineer. Last but not the least, Military Uncle misses his family who he has left in USA.

That said, this is a story of this group of people and how they face their demons after having a face to face with death and a conversation with God.

First of all, the actors look too old for the characters they portray. Especially Sohail Khan who plays Vroom. This character is actually a 22-year-old and, more importantly, younger than Shyam. Fine, ok, small changes can be excused. But what's with the 5-star set for the Call Center bay? I haven't been in a call center, but as far as I know, they certainly don't look like this.

Secondly, the director doesn't give us time to feel anything for the characters completely. The screenplay is too hurried. It is as if the director has decided that "okay, Shyam-Priyanka scenes - check. Radhika's issues - check. Irritating boss- check, and so on." C'mon, let us sink in the scenes. The comedy was rushed too. No time to even laugh. Here is an example to clarify what I mean. Let us talk about the boss, Bakshi (Dalip Tahil). This character is really supposed to make you feel angry and frustrated and incredulous. You begin to think " Bhagwaan dushman ko bhi aisa boss na de" But before you feel anything like that, the scene has already shifted and you are left wondering what just happened and why. Shyam, as a character, is actually a loser who doesn't stand up to himself. And since the original book is in his point of view, he has some excellent dialogues. While casting Sharman Joshi in this role was a good decision, his talent and excellent comic timing has not been utilised properly.

It is not easy converting a book into a movie. There is limited time to put a lot of monologue in one scene. There are some scenes which need not have been in the film but some scenes were actually vital. I would have loved to see Priyanka's outburst at the family in the restaurant while posing as a "CBI Women's Cell" officer. I would have done without the song before the car accident. Instead, I would have preferred seeing a longer conversation with God.

Enough with the flaming. Let us talk about the good thing (yes singular). Sharman Joshi. I don't know if it's me or is he really cute in this film? Even if it's just me, I don't care. I find him really cute. Best choice for the role of Shyam. If only, he was utilised properly.

I hope that, should there be a movie adaptation of "The three mistakes of my life", Chetan Bhagat thinks twice before giving the rights to anyone. Not these makers, please.